SoundGuard - Play and Record with Sound Sensor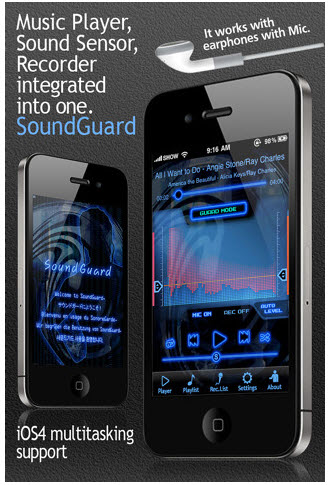 There are times of feeling unsafe when we are listening to music or radio with earphones. It's because we are disconnected to the outside since we are on the earphone.

For instance, we may often miss being called while listening to music at work, or If it was a call from your boss or important thing, you may look bad. Of course, If you are a boss, you don't mind missing calls while on the earphone, but you might lose chances of hearing funny stories and talking on you behind your back while you are on the earphone. And, If you are parents with babies, you don't want to listen to music as loud as you like even if they are sleeping as you never know when the baby will cry out.

SoundGuard combines Sound Sensor, Mic Mixing and Recording into one to improve those situations. If sound from outside detected, iPhone will automatically record, stop the music, adjust the volume, or transfer outer sound into your earphones while you are concentrating on whatever you are doing and, you can create ways to do this by using various settings.

Try out our powerful SoundGuard for low price while it is on promotion
Main function

Sound Sensor:It monitors the change in the sound frequency range, using MIC, and activates.
Recording : It contains Input Gain Amplifier. Other standard recorders require you to speak right onto it whereas this application uses IGA to perform powerfully to not miss any surrounding sound.
Playback : It records only when the sound was detected. It shows the hourly graph which enables for users to find any part of recording fast and easy.
Mixing and automatic adjusting volume:You are able to listen to both music and outside by "Mixing". MIC Time Shift function allows users to listen to past recordings mixed with music. Automatic volume control controls the volume.
Additional features

Share recordings
Web Server/ Email support
Compressing recordings/converts formats
Converts to Windows WAV, CAF for Mac, or MP4.
Background Multitasking Support

This application is compatible for multi-tasking. The process only takes less than 10% of CPU which allows for reservation of battery life. (IPhone 3GS or higher required)
Possible usage

Monitoring while sleeping
Recording lectures
Recording for language training