How to Use the PlayEar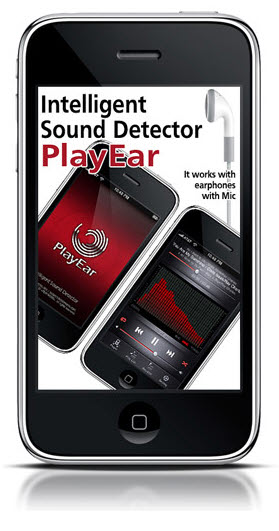 This is Player App that records, pauses and controls volume automatically according to the reaction to outside noise while you are listening to music.

Do you like listening to music on your iPhone while working, but hate missing important calls or hate not being able to hear your name being called by your boss or co-workers? Then you will love the new PlayEar App, designed specifically for your iPhone and iTouch. It was invented to allow you to listen to music at work worry-free.

It is operated by a standard ear microphone offered by IPhone.

"I'm usually working at my office while I am listening to music at high volume. This habit causes me to miss my boss's remarks and suffer the consequences. I oftentimes missed important business calls.

I couldn't listen to music through the speakers and if I try to listen with the earphone, not only could I not hear the noise outside, but I also couldn't concentrate on the task at hand even if I turn the volume down."

The application can stop the music or turn the volume down automatically when someone starts to speak while you are listening to music.

It includes a recording device so you can check for any missed outside noise later.

The PlayEar App also acts as a voice-activated recording device. You can program it to record certain sounds without interrupting your music or your work. The recording feature allows you to listen to sounds that you have missed later. You will be able to listen to music with confidence while working, knowing that you will not miss any important calls.

Try out our powerful SoundGuard for low price while it is on promotion
Features

Basically, it performs as a music player.
It reacts to outside noise while you are listening to music so that it can pause or control the volume automatically.
It records every sound while you are listening to music so that it allows you to check for what you missed and when you missed.
It also functions as a hearing aid unless you play music.
Useful Tips

Deep Sleep - You can record your breathing pattern while you sleep to check the quality of your sleep. The voice-activated recording app will automatically record your snoring for you to hear when you wake up.
Learning a foreign language - You can program it to pause what is being played by your voice. This feature allows you to repeat what you just heard. The PlayEar App will automatically resume play when you stop talking. This is great for learning a foreign language.
What's new

Fixed showing "yesterday" and selection error in the recordlist.
Fixed a crash-bug on iOS4.0
Added artwork images in the playlist.